I Enjoyed A Weaving Exhibition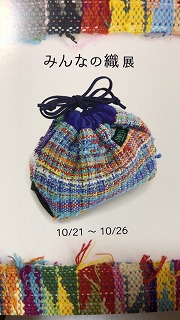 I went to a weaving exhibition invited by my friend, Yumiko.
The gallery was overwhelmed by good works sent from all over Japan.
Coats, jackets, pants, skirts,
and mufflers, bags, pouches, accessories.
The dynamic color palette of warp and fill.
A unique combination of thread.
Each work was original and heart-touching energy.
The most impressive works were two pairs of tops and pants weaved and sewed by a fourth-grade schoolboy.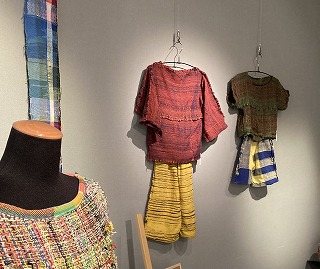 They have attached a hand-writing report on his study about weaving and an explanation for his works.
They showed his passion for weaving.
The kid artist spent his summer days wearing his original weaving works.
Awesome!
Yumiko's work was a cardigan of chick combination of colors with a modern design.
I am proud of her artistic sense and beautiful handwork.
Some of the works were for sale. I got a muffler for the coming winter.
It has a base color pink, adding nice contrast of colors of different types of thread.
The texture is soft and warm, very comfortable.
I like it very much.
The gallery is in a famous tea company building.
The aroma of roasted tea leaves in the shop area on the ground floor came up to the gallery on the upper, which was so good and relaxing.
I was happy to spend a good autumn day enjoying weaving works with an old friend.